EZ-RJ45 Product Information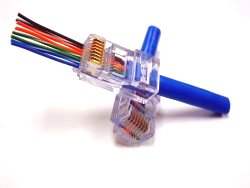 Welcome to ezrj45.com. This page is intended to provide information regarding the EZ-RJ45 line of products from Platinum Tools. Here you will find information about what the various EZ-RJ45 products actually do, and how they can help you. The tabs on the top right of this page should help you navigate the webpage. Should you decide to purchase one of these items, please visit our main catalog site at telephoneparts.com.
Anyone who ever installed RJ45 plugs on the ends of cable knows how important it is to get a reliable connection. Using EZ-RJ45 plugs is one of the easiest methods of installing RJ11/RJ12, RJ45 connectors.